The Medical Spa at PeaceHealth
The Medical Spa at PeaceHealth | Vancouver WA
The Medical Spa at PeaceHealth Medical Group Plastic Surgery offers an impressive range of medical aesthetic and spa skin treatments to residents of the Vancouver, WA and Portland metro area. From injectable fillers to laser skin resurfacing to waxing and facials, we've got you covered. Browse our offerings on this page or download our medical spa brochure below for a complete listing of services and pricing.
Download our brochure, which includes descriptions and pricing for:
Chemical Peels
Facials
Waxing Services
CO2 DOT Therapy Laser Resurfacing
IPL (Intense Pulsed Light) Treatment
Laser Hair Removal Services
Sign up today for Brilliant Distinctions to receive rewards for Latisse, Botox and Juvederm!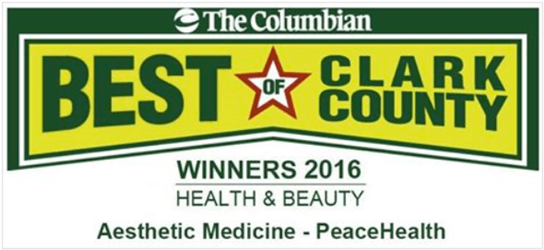 Laser Services
As you age, sun damage, fine lines and wrinkles, brown spots, acne scars and excess hair can make your appear older than you really are. Today, laser and light-based technologies are able to rejuvenate, tighten and restore skin leaving you with a smooth, even complexion in just a few days.
At PeaceHealth Medical Group Plastic Surgery, we offer a complement of laser and light therapies to help achieve your desired skin tone and texture goals. Our licensed Medical Aesthetician and Certified Medical Laser Specialist, Ashley Brierley, has the knowledge and experience to treat all skin types and conditions.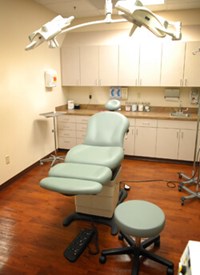 Laser hair removal
Diode technology — the gold standard of laser hair removal — is a noninvasive procedure with minimal downtime producing outstanding results in the permanent removal of unwanted hair without damaging the underlying skin. More information and pricing.
Skin rejuvenation and restoration:
Light – IPL technology (Intense Pulsed Light) rejuvenates skin, all over the body, by using light to penetrate into the skin. IPL can be used to reduce redness and sun damage, correct pigmentation problems, lighten post-surgical scars, lighten red or purple stretch marks and rejuvenate the skin. Treatments include:
prices are per session
| | |
| --- | --- |
| Rocacea Treatment | $100 |
| Photofacial (full face IPL) $300 | $300 |
| Décolleté | $250 |
| Arms | $300 |
| Scar Treatment (Buy packages of 5 get 6th free) | $50 |
Veins - Spider Veins:
| | |
| --- | --- |
| Spider Vein Laser Treatment | $100 for 15mins (includes evaluation time) |
New European Technology!
(Dermal Optical Thermolysis) is a new and exciting way of reversing the appearance of aged or sun-damaged skin, smoothing wrinkles, and reducing the appearance of acne or other scar using CO2 lasers. Because DOT Therapy delivers the desired outcome with minimal downtime, it is rapidly replacing traditional laser skin resurfacing as the treatment of choice for mild to moderate signs of photo damage. Unlike older laser technology, DOT Therapy leaves islands of healthy tissue surrounding the microscopic DOTs. This enables your skin to heal more rapidly. DOT therapy procedures will be performed by the plastic surgeons.
| | |
| --- | --- |
| Face* | $2000 |
| Face/Neck/Décolleté* | $3500 |
| Neck | $800 |
| Décolleté* | $1300 |
| Eyelids | $500 |
| Upper & Lower Lips | $500 |
| Stretch Mark Treatments (15 min per area)** | $250 |
Aesthetic Services
Pamper yourself with a complete selection of medical spa services to renew, refresh and reinvigorate.
Chemical Peels
Slough off old skin cells for younger looking skin. A series of chemical peels* can improve the overall appearance of skin texture and tone, leaving you with a smoother, more even complexion.
| | |
| --- | --- |
| TCA Chemical Peel | $90 |
| SkinMedica Vitalize Chemical Peel** | $125 |
| Dermaplaning** | $100 |
*A series of chemical peels is between 3 and 6 peels, spaced 2-3 weeks apart.
**Chemical peels and Dermaplaning are two separate treatments and should not be combined.
Facials
Your facial includes a skin analysis to determine the best facial and best products for your skin type.
| | |
| --- | --- |
| 1 hour European facial | $125 |
Waxing
| | |
| --- | --- |
| Brow Wax | $15 |
| Brows and Upper Lip | $20 |
| Brows, Upper Lip & Chin | $30-40 |
| Brow Tinting | $15 |
Spray Tan
Your Complete Source for Anti-Aging
PeaceHealth Medical Group Plastic Surgery is also your complete source for anti-aging with SkinCare and injectables. Our SkinCare consists of SkinMedica, Epionce, EltaMD and ZO Medical Products. We also offer Latisse, a FDA approved eye lash lengthener. Cosmetic injectables include Botox and Juvederm.